Since our cow has been dry (almost a year now - wow!) we have had to resort to buying ice cream from the store. We have actually found that this lesser ice cream is actually pretty good and when you eat it like my family does, you have to cut cost. Recently, Oak Farms and Walmart began packaging their ice cream in these little square tubs. While I like the ice cream the same, the Walmart brand does not have a printed label on the sides of the bucket which actually works better for this little project.
This is the lid to the Oak Farms which you can see has a lot of printing and the bucket is a Walmart brand which has little to none on the bucket itself and only the lid has the printing.
I discarded the lids and the handles from the buckets, then spray painted them with Sweet Pea and Warm Yellow Rust-oleum Ultra Cover. Once the buckets were dry, I adhered some ribbon to the top of each bucket using
P K Glitz Sticky Tape
and made some tags from scraps of paper using my Silhouette. It was that easy!
Now these two buckets hold all of my handmade cards.
I will warn you
, the paint on the plastic buckets will scratch off. I do not have little ones in my home and it is not something that will be handled a lot so I think they will stay looking nice for a long time.
ETA: Since creating these buckets I have learned that they actually make spray paint specifically for plastic. Wow! Wish I had known. Anyway - I would certainly try using the spray paint for plastic when creating this project.
What are you waiting for? You now have a great excuse to go out and buy that tub of ice cream! LOL
Sunday:
Monday:
Tuesday:
Wednesday: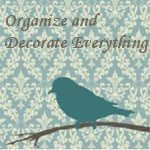 Friday:
Saturday: