I am thrilled to have Liz from Hoosier Homemade stop by and visit me today. One of her many talents has gained her the title "Cupcake Lady". Why is that? Because she can take a little cupcake and transform it into something fun to eat!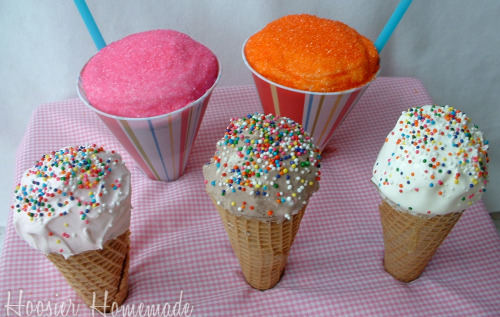 Cupcakes are all the rage right now. And we sure do love them over at Hoosier Homemade. We have a little piece of heaven over there, we like to call Cupcake Lovers Paradise. I host Cupcake Tuesday every week, I always share a new cupcake idea or recipe, and host a linky party, where you can add your cupcake ideas too. During the month of August, we are celebrating Cupcakes in a BIG way with our Cupcake Challenge. Each week I have a different challenge for you, much like Cupcake Wars on the Food Network, and a overall theme of Summertime Fun. You can jump in anytime, the Cupcake Challenge is open all month!! One of my readers favorite cupcakes are the Snow Cones and Ice Cream Cones, pictured above.
Some of the other favorites are the S'More Cupcakes, Uncle Sam, made with an ice cream cone hat, Cocktail Cupcakes and one of my favorite, Black Forest. These cupcakes along with 50+ more, can be found on my Cupcake Heaven page.
Thanks so much to Tammy for having me today! If you ever are in need of a cupcake idea...you know where to find one..or two :-)
Liz, the Cupcake Lady is a SAHM of 3 teenage boys, that keep her running with their sports and school activities. Most of the time you can find her surrounded by Cupcakes, but she also shares lots of baked goods, Budget Friendly Meals, and decorating tips and tricks, all to help you "Make Your House a Home." You can also find her on Twitter and Facebook. If she's not baking cupcakes or a yummy dessert, you can find her partying over on her other blog, It's A Blog Party.