Wow! I can't believe it! I am the featured blogger on
SITS
today!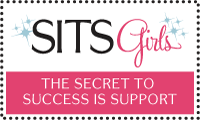 You may be asking yourself, "what is SITS?"

It is a group of more than 9,000 women bloggers dedicated to supporting one another by leaving comments. Lots and lots of comments. Sounds like fun, doesn't it?

If you are new here – Welcome!

Not Just Paper and Glue is a place where you'll find everything from scrapbooking to cheesemaking, handmade cards to homemade soap, wild flowers to tame sunsets and cool crafts to fresh hot bread - because life is not just about paper and glue; it's a whole lot more!

Are you a  Crafting Pinterest Fan?
I also help co-host a weekly
Pinterest Party
and you could be featured right here!
So, take a look around, and don't forget to visit my
SITS Feature
article.