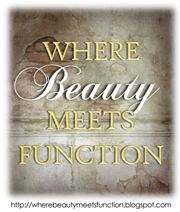 The past several months has found me in a whirlwind. So much so that I have neglected sharing many things with you and one of them was the happy chance of meeting Erin, from
Where Beauty Meets Function
.
It was over Christmas break (2011) when Erin and I met at
The Little Blue House
(a local scrapbook store).
While I was there, I had to get out my glitter, of course. Does that surprise you? I thought not.
Erin was learning how to do the Glitter on Acetate technique….
…and here is Erin with her glittered butterfly!
We really had a great time and I look forward to the next time she comes down my way. Maybe she can show me some of her great decorating techniques